Bicycle Library
Riordan spent a week in downtown Anchorage trading books from his take a book/leave a book bicycle-library.
This mobile library began its week downtown with 21 books. Riordan started with 2 copies of each, the first for trade, the second kept as a sort of control library. The trades were all one for one. Each transaction was recorded in a logbook by the participants themselves.
HOUSE
Over the month of November HOUSE, a two story shack built in Alaska Pacific University's Carr Gottstein Gallery, hosted four week-long artists-in-residence and a video screening. The preselected artists were provided this space to live in and to work out of, so that they could apply singular focus to their art practice. The program offered conditions conducive to creativity, work facilities, gallery space and the opportunity to host workshops and lectures.
RETURN TO ME
In the spring of 2010 Jimmy Riordan and Leslie Rosa took the Le Roman du Lièvre: Marginalia exhibition on a road trip from Anchorage to New York City.
DIAL #00
Pick up the receiver. Dial #00. Arrange a meeting with Jimmy Riordan.
BRICK: U-Haul Festival
Riordan coordinated and curated a fleet of U-Haul trucks, their trailers converted into art galleries, music venues, performance spaces, a tarot reading booth, and even a beach. It all took place in one secret location for one night, and the only way to get to the event was to be shuttled to the mystery location from a pop-up bus stop in downtown Anchorage.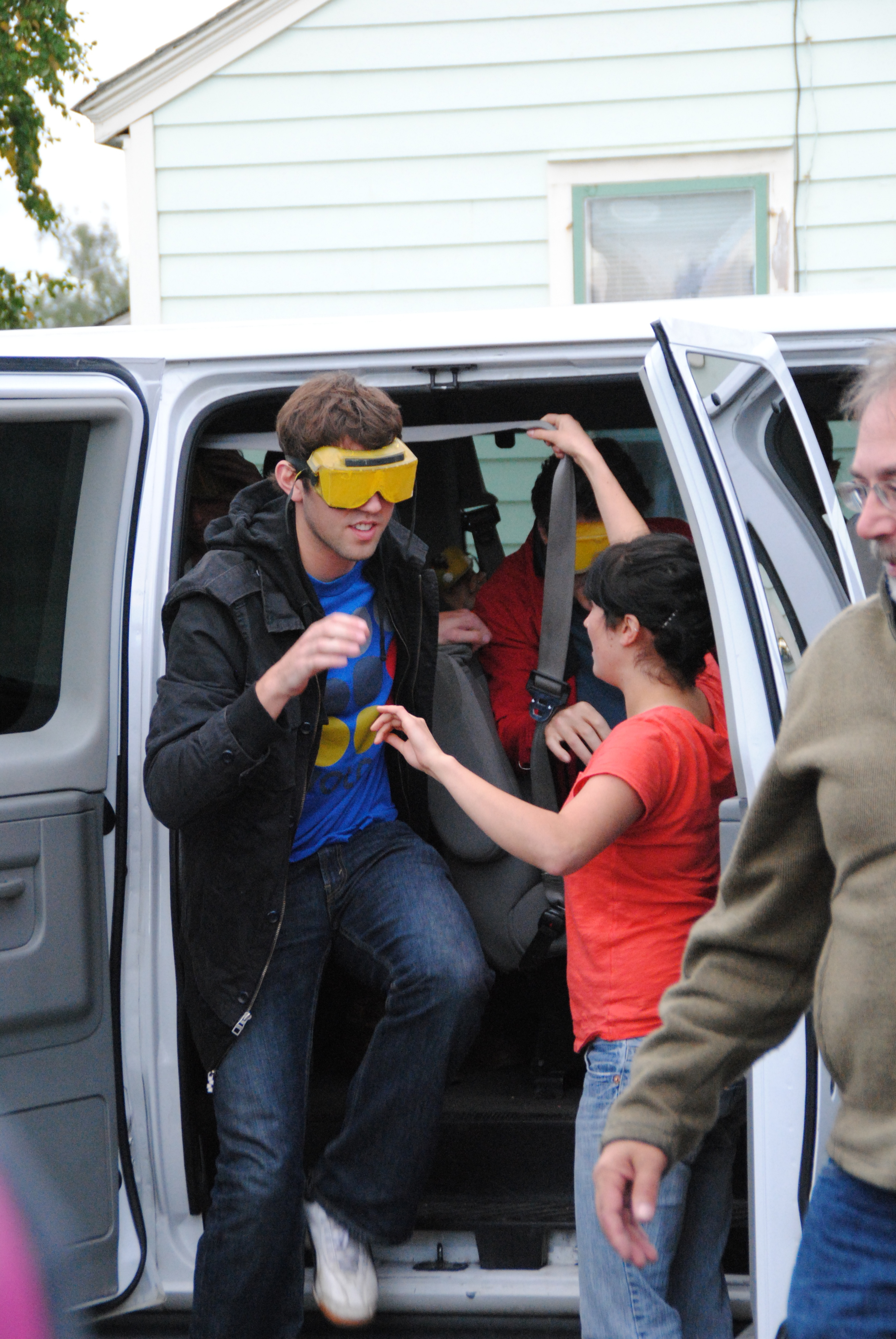 Some Sculptures
Some sculptures made for 2013 exhibitions Process Alaska and New Sculpture.
BRICK Retrospective
Riordan co-curated this phony retrospective show, chronicling the enigmatic Anchorage artist collective known as BRICK. The show contained a variety of work, display cases full of artifacts and ephemera, and over 20 pages worth of text in the form of wall tags.
Underwater Drawing
An exercise in restraint performed under Riordan's instruction by the UAA Experimental Drawing class.
PARQUE?: 2010
A collaboration with Craig Updegrove accompanying a Still North reading event featuring poets Olena Kalytiak Davis and Kary Wayson.
The two artists printed over 300 letterpress posters highlighting text from Olena and Kary's poems, which were then frozen to buildings all over downtown Anchorage. They bound a chapbook of poems for the reading and installed a stage made of books covered in parquet-patterned paper.
BRICK
A series of events including a U-haul gallery and piñata celebration.
READ
While living in London Riordan installed giant vacuum-formed braille graffiti under the tag READ.